NLO 906: Romeo & Jewliet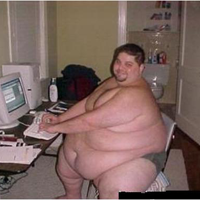 ESTER-KAY STEINBERG is jewin' up the studio big time! Today we learn so many things about Ester. She's formally lifted her previously stated 90-day "no bang" moratorium, so the world rejoices. She also is working toward getting a huge ass, and she hates getting eaten out (mostly). Patrick creates a new, brilliant pro-gay campaign, and then admits his love of the TV show "Girls". Patrick got hit on by another burger waitress, which shocks everyone. The bottom line is that Ester really loves fat dudes, just not Patrick. Or does she? You be the judge.
NOTE: These comments are viewable to EVERYONE - not just other Overdose members.